His Holiness Pope Tawadros II received, this evening, at the Pontifical headquarters in Cairo, Hisham Talaat Moustafa, CEO and managing director of Talaat Mostafa Holding Group, and the accompanying delegation who came to congratulate His Holiness on Christmas.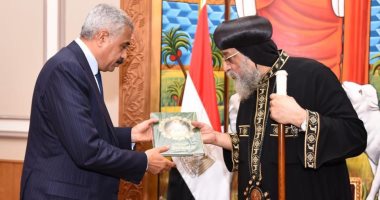 Hisham Talaat Moustafa expressed his deep thanks to the Pope for receiving him and invited his Holiness to visit the city "My City" and to inaugurate the Church of the Virgin and Martyr Margirges there.

His Holiness the Pope welcomed the guests and thanked them for their tangible efforts at home, which appear in the new cities being built by the Talaat Mustafa Group and wished them all success and more success in their work tasks, and the meeting was attended by Reverend Anthony Morris, priest of Madinaty Church and members of the Church Council itself.